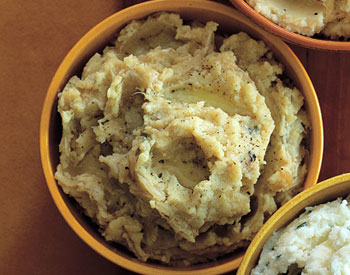 Caramelized-Shallot and Sage Mashed Potatoes
From Bon Appétit magazine
2 lbs. Yukon Gold or russet potatoes (unpeeled) 1/2 cup whole milk 1/4 cup (1/2 stick) butter 2 tbsp. olive oil 2 cups thinly sliced shallots 1 teaspoon chopped fresh sage 1 tablespoon white balsamic vinegar 2 teaspoons sugar Salt
Place potatoes in large saucepan; cover with cold water. Bring to boil, reduce heat to medium, and simmer until tender, about 20 minutes.
Meanwhile, heat oil in heavy medium skillet over high heat. Add shallots; sauté until tender, about 2 minutes. Reduce heat to medium low; stir until shallots are golden, about 5 minutes longer.
Add fresh sage, white balsamic vinegar, and sugar; stir until caramelized, about 2 minutes. Set aside.
Drain potatoes well; cool slightly. Peel and mash potatoes; place in large saucepan. Over medium heat, dry out potatoes for 2 minutes, stirring occasionally.
Meanwhile, heat milk in small saucepan until warm. Stir butter into potatoes. Add warm milk and stir until completely absorbed. Stir shallot-sage mixture into potatoes. Season with salt.
Serves 6.